Published on 07-08-2011 06:40 AM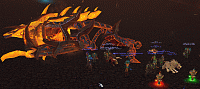 Our 10 man raid has come along rather nicely since 4.2 rolled out. There's always bumps in the road, but in the end, our stubborn ways pay off. Our progress today comes to you in (mostly) video form!

Pushing up fresh daisies, little miss Alysrazor!


Click read more for the rest! ...